CHICAGO — Chicago Public Schools and Chicago Teachers Union leaders remain unable to reach an agreement to reopen schools for thousands of students, as the union rejected what Mayor Lori Lightfoot and schools chief Janice Jackson called their "last, best and final offer."
The prolonged fracture between the two sides comes at the heels of increasingly bitter rhetoric that has led to talks breaking down twice, a threat to lock out teachers who refused to work from their school buildings this week, and the looming potential of teachers walking off the job for the second time in Lightfoot's tenure.
Lightfoot and Jackson said their team received a counterproposal from the CTU on Thursday afternoon, and they "responded with our last, best and final offer."
In a statement, CTU leaders said the mayor and district leaders "walked away from the bargaining table again" and are refusing to budge on several critical issues, including health metrics for when schools and the district should close to contain coronavirus spread, vaccinations for teachers and staff, not sanctioning teachers who have refused to work in-person in recent weeks and upgrades to remote learning arrangements.
"This is a pandemic, and that means our schools have to get every single mitigation protection right if we're serious about keeping children and adults safe," CTU President Jesse Sharkey said in a statement. "We're deeply disappointed that the mayor has chosen to stop negotiating and instead move to lock out educators and shut down schools rather than work out our differences.
"Our stance hasn't changed: We are willing to work and we are willing to negotiate the safest agreement for our students, their families and all stakeholders in our school communities."
What happens now isn't clear. Lightfoot and Jackson have not yet responded to the union's statement. There's not been an announcement about schooling arrangements for next week or whether the district will move to lock out teachers who continue to defy mandates to work at their schools.
Teachers union leaders have contended schools are not safe for students or staff at this stage of the pandemic, and it is not necessary to require thousands of teachers to work in person when the majority of students have opted for virtual learning anyway.
Lightfoot and Jackson have maintained schooling can be safe with certain precautions — citing studies from the Chicago Department of Public Health and Centers for Disease Control and Prevention — and classrooms need to be open for the families who chose that option. 
The district moved ahead with bringing back preschoolers and special needs students and their teachers in early January over the objections of the union. Dozens of teachers refused mandates to work from their school buildings and were locked out of their district email and Google Classroom accounts, preventing them from teaching at all. They also were place on "absent without leave" status and were not being paid unless they showed up or received a valid exemption to work remotely.
CTU leaders and parents have said some of those teachers have remained locked out.
The district had intended to bringing back kindergarten to eighth grade teachers starting last week and students on Monday. But as the two sides gridlocked over several issues, the union instructed teachers not to report to their school buildings and prepare to strike if CPS refused to let them work virtually.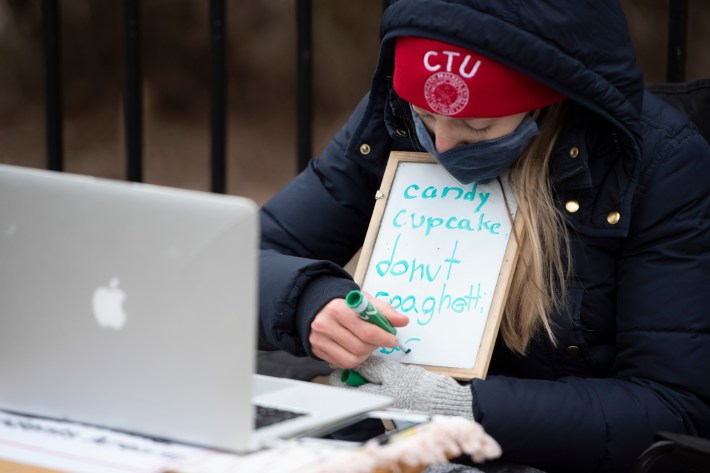 That compelled CPS to revert to remote learning for everyone, even for the preschool and students with special needs, who'd already returned to classrooms.
Talks continued last week with little indication the two sides were moving closer to an agreement on critical issues such as teacher vaccinations, testing and contact tracing for students and teachers in some of the hardest hit neighborhoods, and allowing teachers who are high risk or live with high risk relatives to continue working remotely. 
By the weekend, the public disagreement led to both sides accusing the other of sabotaging negotiations when a deal was within range and Lightfoot threatening to lock out teachers again if they did not report to work Monday.
But Lightfoot and Jackson changed their tone and backed off their pledge to sanction teachers working virtually. They agreed to allow teachers and students to continue remote learning all week, accounting for a previously scheduled day off for students Friday, while the two sides continued negotiations.
The tenor shifted again Thursday, as Lightfoot insisted she was done with the back-and-forth and a deal needed to be finalized right away.
Subscribe to Block Club Chicago. Every dime we make funds reporting from Chicago's neighborhoods.
Already subscribe? Click here to support Block Club with a tax-deductible donation